Media & Events
Xi Jinping's Tibet Challenge: One Year On


The website www.XiJinping-TibetChallenge.org has now been updated to reflect Xi Jinping's first year at the helm of China's Communist Party on 15 November. The site contains the original Xi Jinping's Tibet Challenge report, information about key exacerbating features of the occupation since last November, and quotes from a number of Tibet movement leaders and Chinese democracy campaigners/specialists.
Joint Network Members Sign-on Statement
For Release 14 November 2013
Xi Jinping's Tibet Challenge: One year on and no sign of Xi changing failed Tibet policies
First twelve months of China's 5th generation leadership marked by increased repression in Tibet, including shootings of unarmed Tibetans, and continued self-immolation protests
Xi Jinping's first year at the helm of China's Communist Party has seen a tightening of restrictions in occupied Tibet, Tibet campaigners said on the anniversary of China's 5th generation Politburo Standing Committee being unveiled. Xi and his colleagues have shown no sign of changing course in Tibet, instead they are continuing down the same failed path as previous generations of Chinese leaders; implementing a harsh military crackdown, which - far from bringing about the stability they seek - serve to exacerbate Tibetan grievances and create widespread resistance right across Tibet.
Go to Joint Statement
---
Joint Press Statement, for immediate release
12 November 2013
High Resolution Photos & Video available:
https://www.dropbox.com/sh/oj1zzswcwe6l67n/ne-1s55XrU
1 million stand for Tibet worldwide as UN member states let China walk back onto Human Rights Council

Following China Rights Review, governments must urgently hold Beijing to account for human rights failures in Tibet
[NEW YORK] Tibetans and supporters were outraged at today's smooth re-election of China to the UN Human Rights Council, and demand that UN member states use this as an opportunity to hold China accountable for its catastrophic policies in Tibet. A petition launched by Avaaz, supported by over 1 million people, roundly demonstrates that the global community opposed China's re-election unless its leaders agreed to stop their systematic abuse of the Tibetan people. [1] With no challengers, it was inevitable that China would regain a seat on the Human Rights Council and we applaud the 16 governments who stood up for Tibet and said "No" to China today. [2] However we deeply regret that 176 governments ignored the UN's own guidance for voting states by voting for China. [3]
Go to Joint Press Statement
---
Press Release
22 October, 2013
For Immediate Release
Tibet movement leaders welcome UN member states' interventions on China's Universal Periodic Review and slam China's defensive responses on Tibet
Members of the Tibet Coalition Lobby Team gave their reaction to the UPR hearing in a Google Hangout press conference, convened by the International Tibet Network within an hour of the UPR conclusions, along with Julie de Rivero of Human Rights Watch and pro-democracy campaigner Yang Jianli.
---
Media Advisory, 21 October 2013
TIBETANS, SUPPORTERS PLAN PROTESTS AND PRESS CONFERENCE TO COINCIDE WITH CHINA'S UNIVERSAL PERIODIC REVIEW
Campaigners from across Europe call for strong government response to China's flagrant human rights abuses in Tibet
Geneva - Tibetans and their supporters from across Europe are planning a series of protests and a press conference in advance of and during China's second Universal Periodic Review (UPR) taking place on Tuesday, 22 October. During the UPR, China's human rights situation will be scrutinized as other UN States "peer review" whether it has met stated requirements.
Given the deteriorating human rights situation in Tibet where a shocking 122 Tibetans have lit their own bodies on fire in a drastic wave of protests, campaigners have lobbied UN member states to put Tibet front and centre during the review. Tibet activists are also exposing Beijing's efforts to cover up its flagrant human rights record in Tibet and to silence international criticism.
Schedule of Tibet events to coincide with China's Universal Periodic Review: Click here to read the Advisory in full and for all Contact Details
_____________________________________________
International Tibet Network Press Conference:
Human Rights Watch, Tibet Movement Leaders & Chinese Democracy Activists give on-the-spot analysis and reaction to China's Universal Periodic Review in Geneva
GLOBAL ONLINE PRESS CONFERENCE TO BE HELD ON TUESDAY 22 OCTOBER
Watch it live on this page on 22 October or via International Tibet Network Youtube channel
[Please note that the time of this hangout ESTis 07.30, not 08.30 as on the right]
---
Universal Periodic Review of Human Rights - Review of China
Programme of the Solidarity Rally
Tuesday, 22nd October 2013
---
Press Release  | 9 October 2012
International Tibet Network Joint Statement: Driru Shootings
Shooting of unarmed Tibetans in Central Tibet further damages China's reputation as Universal Periodic Review approaches
International Tibet Network condemns China's violent suppression of Tibetan peaceful resistance against provocative patriotic education and propaganda campaigns
The International Tibet Network [1], a global coalition of 185 Tibet Groups, condemns the shooting and injuring of at least 60 Tibetans, some seriously, by Chinese security forces in Driru, Nagchu, Central Tibet (Ch: Biru, Naqu Prefecture, Tibet Autonomous Region) on 6 October [2]. Chinese troops opened fire on Tibetans who had gathered to call for the release of a villager, named as Dorje Dragtsel. Dragtsel had been detained on 3 October after objecting to orders from a visiting 'patriotic education' work team, which was attempting to force Tibetans to raise the Chinese flag and show loyalty to the Communist Party.
---
This updated version of our G8 report calls on G20 nations to tackle Xi Jinping directly about his failed policies in Tibet during the St Petersburg summit (5 and 6 September), and urges G20 leaders to initiate a new multilateral strategy to address the crisis Tibet; to build influence and counteract China's bullying on the Tibet issue.
Read the full report (press release coming soon)
---
__________________________________________________________________
22 July, 2013
On July 20, Kunchok Sonam, 18-year old monk self-immolates and dies in Dzoge, Amdo. After finishing the morning prayer, Sonam set his body on fire; it was around 8:30 am. Sources reported that "some fellow monks saw Kunchok Sonam on fire with both his hands clasped in a praying gesture".  Monks at Tashi Thekchokling Monastery performed prayers on the day of the self-immolation. Soon after, local police surrounded the monastery and demanded the body but presence of large number of local people prevented police from taking the body away.  Currently It is not clear where the body is.
Visit www.standupfortibet.org to get more information on self-immolation cases and to take action.
---
International Tibet Network Joint Statement: Shootings in Tawu, eastern Tibet
Updated: 9 July 2013
Chinese People's Armed Police open fire in Tawu, eastern Tibet, on Dalai Lama's birthday celebrations; up to nine Tibetans reported to be injured
Tibet movement expresses shock at violent response to peaceful gathering
Incident casts doubt on speculation of policy relaxation in Tibetan areas
News is emerging from Tibet that People's Armed Police (PAP) opened fire on unarmed Tibetans who were holding a picnic in the Tawu region (Ch: Daofu) of Kham, eastern Tibet (now part of Sichuan Province) on 6 July to mark the Dalai Lama's 78th birthday.

According to the International Campaign for Tibet, Ugyen Tashi (also known as Tashi Gyaltsen) is said to be in a critical condition in hospital in Chengdu, the Sichuan provincial capital and monk Tashi Sonam from Nyitso monastery was shot in the head. Several other Tibetans were seriously injured and are being treated in Dartsedo (Chinese: Kangding) in Kardze. A number of Tibetans were detained after the incident and at least 20 are believed to still be in custody in Tawu. Tibetan Centre for Human Rights and Democracy have named nine Tibetans who were injured.
---
Updated: June 24, 2013
There are only three days left of the World Heritage Committee Meeting but so far Lhasa has not been discussed. We still need at least one delegate to ask UNESCO to share what information they have about what is happening in Lhasa, including any assurances given by China.
International Tibet Network's member groups sent a letter to Mr. Kishore Rao at World Heritage Centre, UNESCO. (View and Download Full Letter - PDF)
---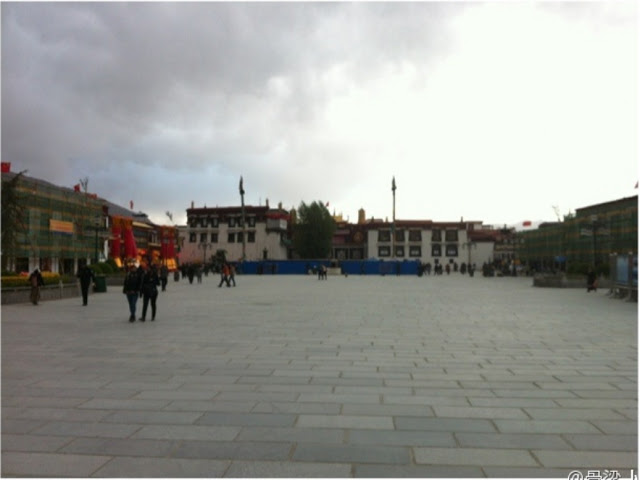 A major construction work being undertaken in the remaining old Tibetan quarters of Lhasa. It will destroy physical symbols of the remaining Tibetan cultural heritage, including buildings that are of universal value and need to be protected.
We must build widescale pressure on the World Heritage Committee in the lead up to their Annual Meeting (16-27 June) to include Lhasa World Heritage Site ensemble on the "List of World Heritage In Danger" and take action with the State Party (China), including demanding an urgent Mission to Lhasa.
TAKE ACTION:
Request Face-to-Face Meetings:
- Ask for a meetings with the relevant Secretary of State or Minister [see above] & UNESCO representatives to discuss the situation and urge them to support your concerns about Lhasa.
- Tibet Groups in France are working to get an appointment with UNESCO staff and also ICOMOS. We will keep you posted as to the outcomes of such meetings.
Grassroots/Supporter Action:
Save Lhasa Petition: This petition has been slightly edited to reflect the accurate situation in Lhasa and to target the World Heritage Committe (cc'd to ICOMOS - see above). Currently there are almost 5,000 signatures and we are in discussion with Change.org about them pushing the petition with their own huge lists. The new link to the petition is http://www.change.org/petitions/kishore-rao-stop-the-destruction-of-lhasa#share
More Information:
The award-winning Tibetan writer Tsering Woeser was recently in Lhasa and has written an extensive report concerning this issue. See http://woeser.middle-way.net/2013/05/blog-post_7.html translated into english at http://highpeakspureearth.com/2013/our-lhasa-is-on-the-verge-of-destruction-please-save-lhasa-by-woeser/
A New Global Approach: Unite for Tibet
International Tibet Network and its Member organisations have authored a report "A New Global Approach: Unite for Tibet". This calls on G8 nations to lead the way in initiating a new multilateral strategy to address China's policies in Tibet; to build influence and counteract China's bullying on the Tibet issue.
Report "A New Global Approach: Unite for Tibet: G8 leaders lead the way" to be released on 17 June
Report exposes China's hollow threats and calls for multilateral action on Tibet
On Monday, 17 June, to coincide with the G8 summit in Northern Ireland, Tibet campaigners will release and deliver a short new report to G8 capitals, including 10 Downing Street [1], that calls on G8 leaders to lead the way on a new diplomatic initiative for Tibet. The report is authored by the International Tibet Network, a global coalition of 185 Tibet Groups, and its Member organisations [2].
---
11 June, 2013
11 June: Wangchen Dolma, a Tibetan nun, self-immolates and dies in Tawu, Kham. 21-year old Wangchen Dolma set herself on fire at Nyatso monastery in Tawu County, eastern Tibet, during a major Tibetan Buddhist gathering that had been previously banned by Chinese authorities in 2012. Wangchen Dolma died in hospital on 14 June. Chinese authorities refused to hand her body over to family members stopping them from preforming traditional Tibetan rites of passage. Her body was later cremated by the authorities and her family were ordered not to release any information about her protest or to visit the monastery.
Visit www.standupfortibet.org to get more information on self-immolation cases and to take action.
---
May 27, 2013
27 May: Tenzin Sherba, in his early thirties self-immolated and passed away in Yushu are in Amdo. Tenzin Sherab's body was initially taken away by local police but was later returned to the family. According to sources, he has shared with friends his feelings about the evil Chinese policies and treat to Tibetan culture and religion.
Visit www.standupfortibet.org to get more information on self-immolation cases and to take action.
---
Visit News Listing for Previous News and Campaign Updates
For the most up-to-date news digest and analysis, visit our news archive blog: Tibet Network News Update